Want to be trendy and classy at the same time? Search no further! Go and have a look at our pearls jewelry collection. We make pearl bracelets, pearl necklaces, and pearl earrings!
For your convenience links are below:
A bit more information about pearls that we use. Pearl jewelry and accessories are very trendy now. What is more, they basically never get out of style. You can wear pearls now and you can wear them in 10 or 50 years, pearls will be pearls – classy, stylish, and rich.
We use different kinds of pearls in our jewelry making. Our bracelets, necklaces, and earrings consist of different sized pearls, shapes, colors, or nature.
For our jewelry, we use natural pearls, freshwater pearls, Keshi pearls, and Swarovski pearls.
Natural freshwater pearls
For a more natural feel, we suggest our natural freshwater pearls. All of the freshwater pearls are handpicked, adjusted to the exact piece of jewelry. You won't be able to find the same two-looking pearls, therefore all of the earrings, bracelets, or necklaces are unique.
Keshi pearls
To go a more modern and unique way, we offer to choose jewelry with Keshi pearls. Keshi pearls are small non-nucleated pearls typically formed as by-products of pearl cultivation. Keshi pearls in Japanese have a meaning "poppy", it is used in Japanese for all pearls that grew without a nucleus. Due to their growth without nucleus every pearl on our earrings is unique and one of a kind.
Swarovski pearls
If you want something stylish, minimal, and perfectly aligned, go with Swarovski pearls. Swarovski pearls core is made out of special Swarovski glass and is treated with a unique special surface coating. Due to the special coating, the matte of the pearls makes them look as real as it gets. Also, the matte covers them with the elegance and the timeless perfection of real pearls. To see what we mean about elegance and timeless perfection see our bracelet with Swarovski pearls: https://ggunique.com/product/swarovski-pearls-gold-hematite-stones-and-stainless-steel-bracelet/.
Baroque pearls
Baroque pearls are pearls with an irregular non-spherical shape. Shapes can range from minor aberrations to distinctly ovoid, curved, pinch, or lumpy shapes. Most cultured freshwater pearls are baroque because freshwater pearls are mantle-tissue nucleated instead of bead nucleated. Cultured saltwater pearls can also be baroque, but tend to be more teardrop-shaped due to the use of a spherical nucleation bead (more about baroque pearls read here).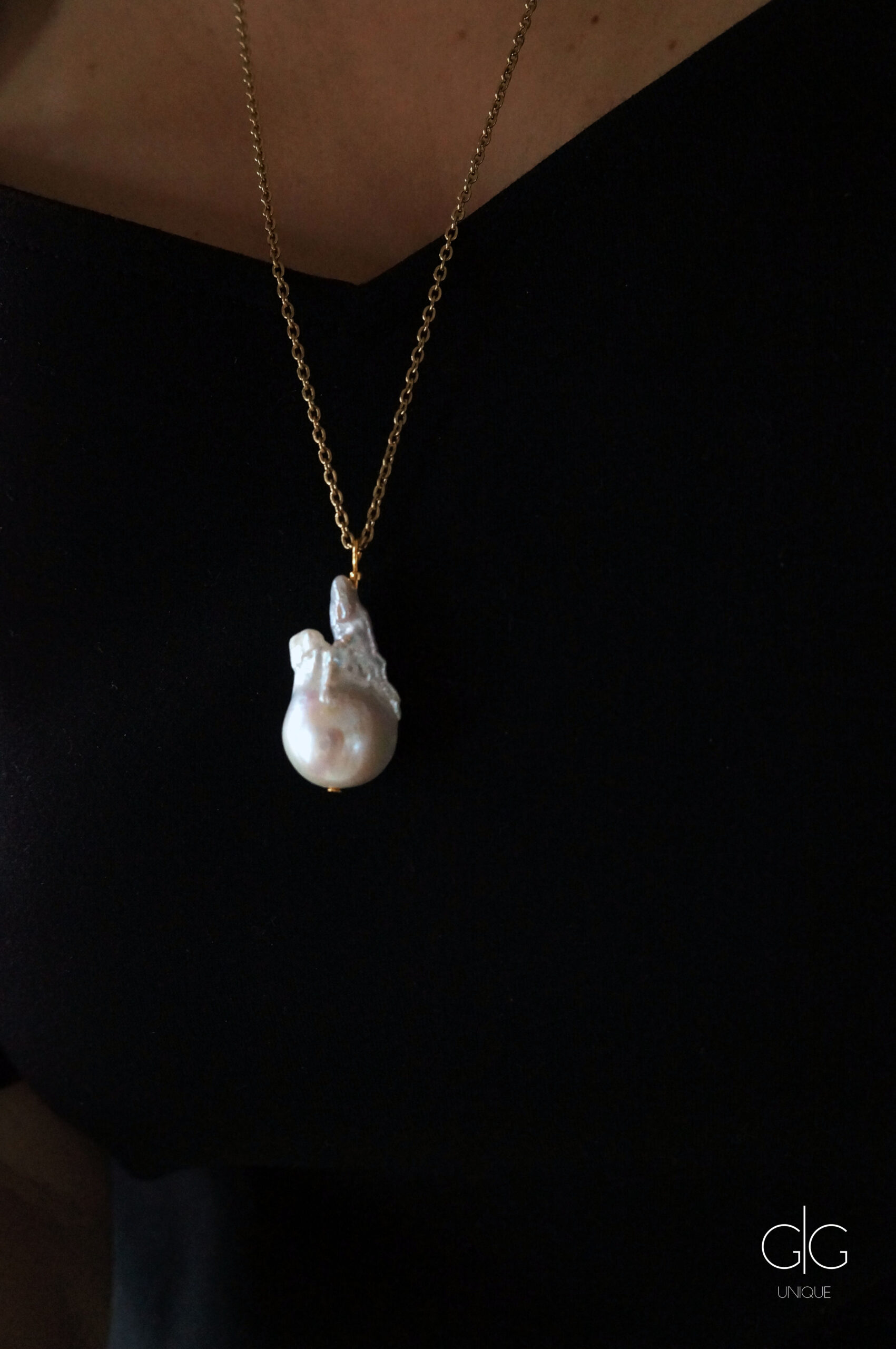 So if you want to be trendy, stylish, and classy at the same time, choose bracelets, necklaces, and earrings with pearls.
With Love,
GG UNIQUE